General Mechanics
Is your vehicle is in need of repairs or a tune-up? We offer widespread services in general mechanics for all makes and models of cars and trucks, including European vehicles and luxury cars.
Our Services
For best results, it's important to entrust your vehicle with experts in general mechanics who are able to provide an accurate assessment of your vehicle's condition. By doing this, you will avoid useless spending, as well as increase your safety and the safety of your passengers. Mécanobec commits to carrying out all of its repairs with care in order to detect any problems that could impair your driving.
We provide general mechanics services on all automobile systems, including:
The starter system<
The cooling system
The ignition system
The dashboard
The fuel injection system
Computer diagnostics
Windshield installation

The differential
The brakes
The axle
Electronic control units
Electric systems
Auto body repair
Insurance claims
Maintenance
Every season, your car faces different road conditions which can take their toll on its health. A seasonal maintenance can help prepare your vehicle for upcoming weather conditions. A well-maintained vehicle will retain its value and require fewer repairs over time. It will also be much safer. Whether your vehicle needs an oil change, a complete inspection or pre-trip maintenance measures, book an appointment with Mécanobec for reliable general mechanics maintenance services.
Checkup and Repair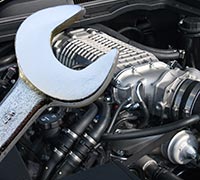 When you suspect your vehicle to have mechanical problems, bring it to our workshop for an extensive checkup by our skilled mechanics. They will determine where the problem originates and present you with an effective and detailed repair plan in order to help you make an informed decision.